A spectacular trip to discover Ninh Binh with a boat trip to visit three enormous caves and view local fisher folk and explore the village along the river. Another exciting activity the visit to Hoa Lu, an ancient Capital of Vietnam (968 – 1009) and the temples of the Dinh & Le Dynasty. This trip surely brings you unforgettable travel experience.
Ninh Bình:  is a province of Vietnam, in the Red River Delta region of the northern part of the country.
Location: Ninh Bình is located to the south of the Northern Delta, between the Red and Ma rivers. It is bordered by Hòa Bình and Hà Nam to the north, Nam Định to northeast, Thanh Hóa to the south and west.
Access: Ninh Bình is located 91 km from Hanoi and has both rail and road transport links. Express rail connections with Hanoi in the north and Thanh Hoa and Vinh in the south. Buses from Hanoi's South Bus Station stop by Ninh Binh; the bus routes parallel and complement the rail route.
Main attraction: Trang An Eco-tourism Complex, Tam Coc – Three grottoes, Van Long Natural Reserve, Kenh Ga Hot Spring, Phat Diem Cathedral, The ancient capital of Hoa Lu, Cuc Phuong National Park, Bich Đong Pagoda.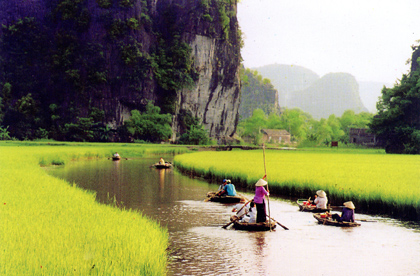 Itinerary in detail:
8:00 a.m: Leave the hotel at Hanoi.
About 10:30 a.m arrive at Hoa Lu Ancient Capital. In 968, Dinh Bo Linh declared himself as the King. Since then Hoa Lu existed as the capital for the next 41 years (968 – 1009), of which 12 years was under the Dinh dynasty – King Dinh Tien Hoang, the country named Dai Co Viet, and 29 years later was under the Le dynasty – King Le Dai Hanh. In 1010, King Ly Thai To moved the capital from Hoa Lu to Thang Long – present day Hanoi. Hoa Lu became the old citadel. In Hoa Lu there are now 2 temples have been built on the ground of the old royal palace, one is dedicated to King Dinh Tien Hoang, the other is to King Le Dai Hanh. The visit offers a chance to know more about part of feudal dynasties and historical periods in Vietnamese history.
11:30 a.m:  leave Hoa Lu to Tam Coc.
12.00 a.m: Arrive Tam Coc and have lunch in a local restaurant with goat meat which is famous as the local specialty.
1.00 p.m: 5 minute-walk to the boat station and start the 2hour-boat trip to visit Tam Coc. Known as "Halong Bay on land", Tam Coc are three limestone caves stretching along Ngo Dong River. The boat trip is a nice journey along the river with peaceful scenery of Limestone Mountains, rice paddy and the site of some temples along the way from Hang Ca (first cave) to Hang Hai (second cave) and Hang Ba (third cave).
3.30 p.m: leave Tam Coc and drive back to Hanoi. Arrive Hanoi at 6:30pm. Finish unforgettable full day trip at your hotel in Hanoi!
Package price:
Option 1:US$ 37  per person(No Cycling)
Option 2:US$ 40 per person(Cycling & Buffet)
*Private tour is always available. Please contact us for frequent updated price
Trip cost included:
• Admission fees
• Meals (1 lunch)
• Transfer in air-conditioned vehicle
• Fully escorted by English speaking guide
Trip cost excludes:
• Travel insurance
• Personal Expenses, bar, drinks
• Tips and gratuities
• Pre-post accommodation in Hanoi